You might ask, why would a graphic design website post a pizza recipe? It's because this pizza is amazing and worth sharing everywhere! Most importantly this recipe is cheap, quick and healthy. Let's get started…
Prep Time: 10 min, Cook Time: 17 min
Kids typically eat one Pita Pizza while adults eat two.

You will need: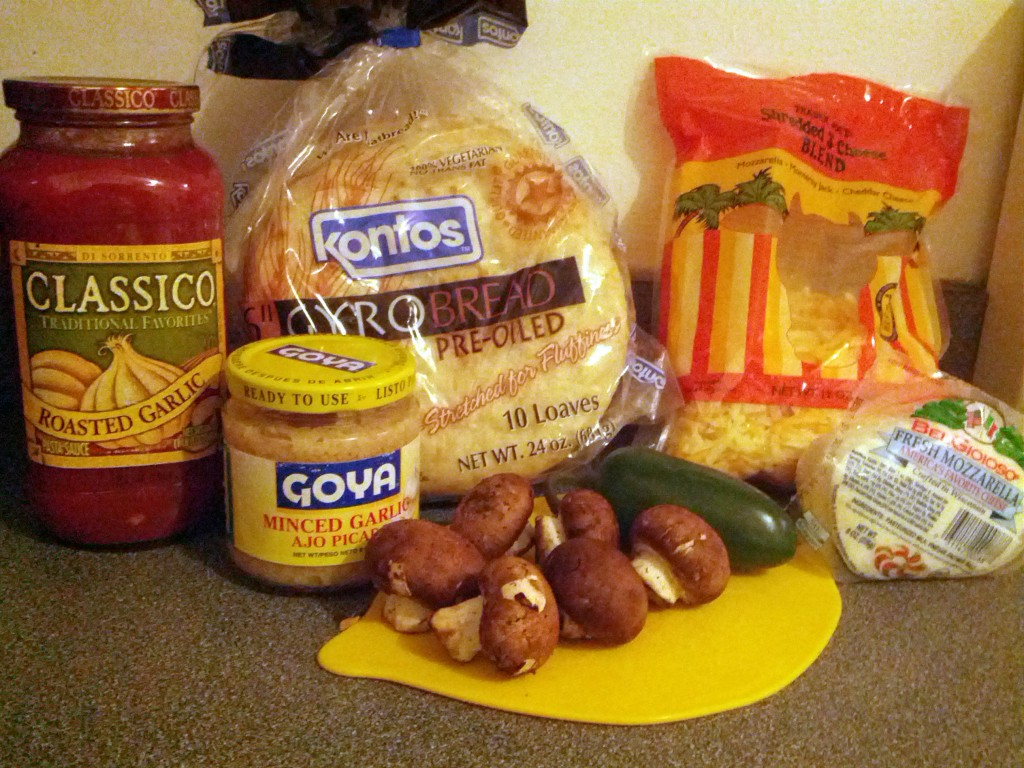 Ingredients
• Pita bread (Naan bread works great too!)
• Pasta Sauce (3 tablespoons per pizza)
• Garlic (Minced or Finely Chopped, 1 teaspoon per pizza)
• Mozzarella Cheese (about a 1/4 cup per pizza)
• Shredded Cheese (about 2 tablespoons per pizza)
• Fresh Veggie Toppings!
- Mushrooms, Onions, Jalapenos, Broccoli, Carrots, Shredded Ginger, Etc.
- Works well for breakfast pizza too with Scrambled Eggs and Avocado
• Preheat oven to 375 degrees
Step 1: Add Pasta Sauce and Garlic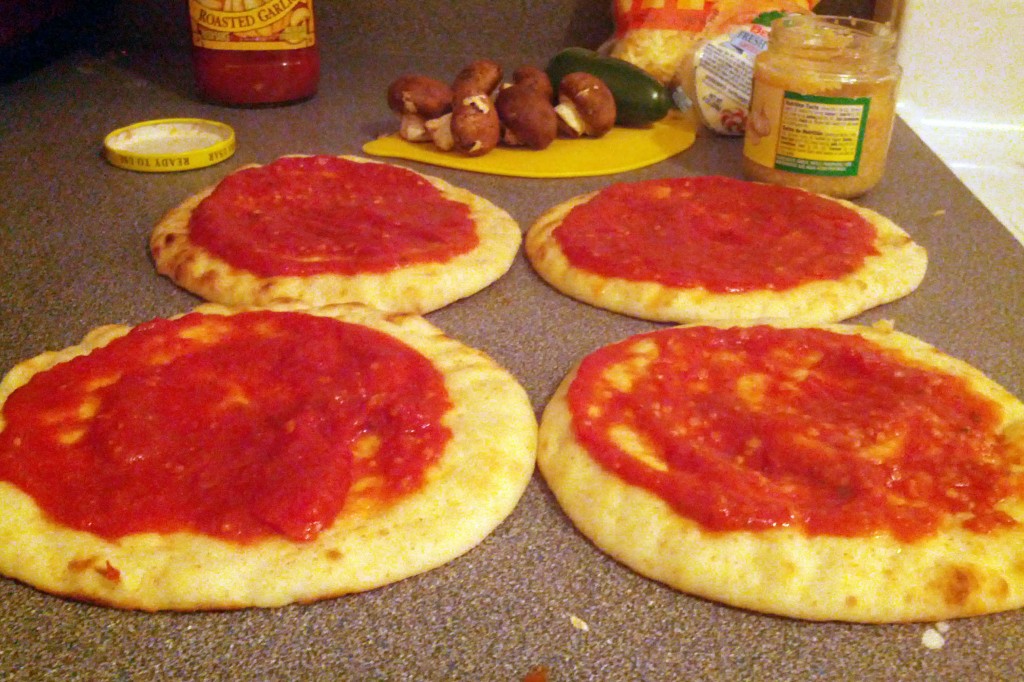 Spread sauce and garlic evenly over pizza surface with a spoon but avoid the edges. This will give your pizza a nice crust and avoid sauce dripping in your oven when cooking.
Step 2: Add Mozzarella Cheese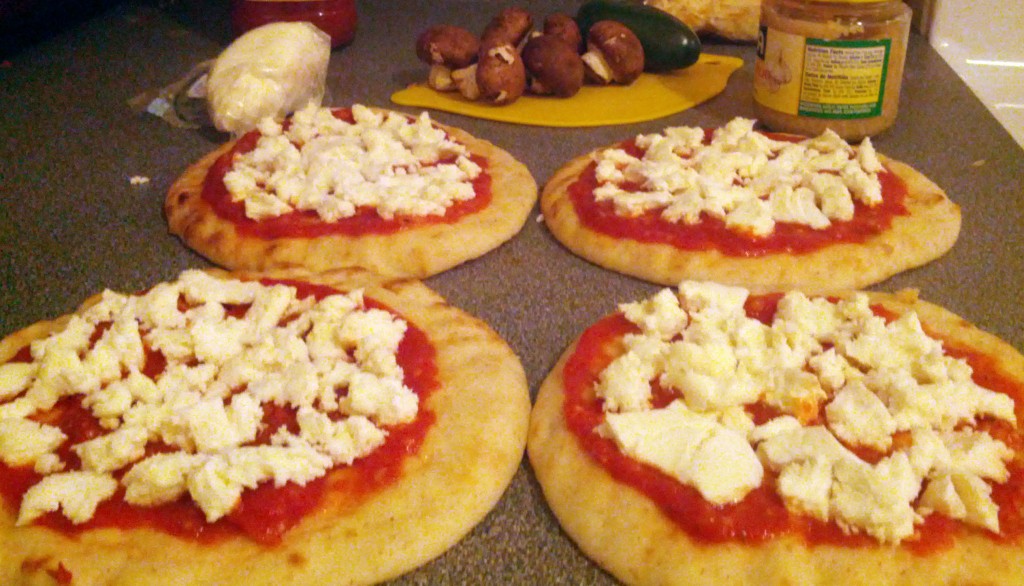 When adding your cheese it doesn't have to be pretty. Just tear off small chunks and spread them out on your sauce. Again, avoid the edges or you'll have melted cheese dripping in your oven.
Step 3: Add Toppings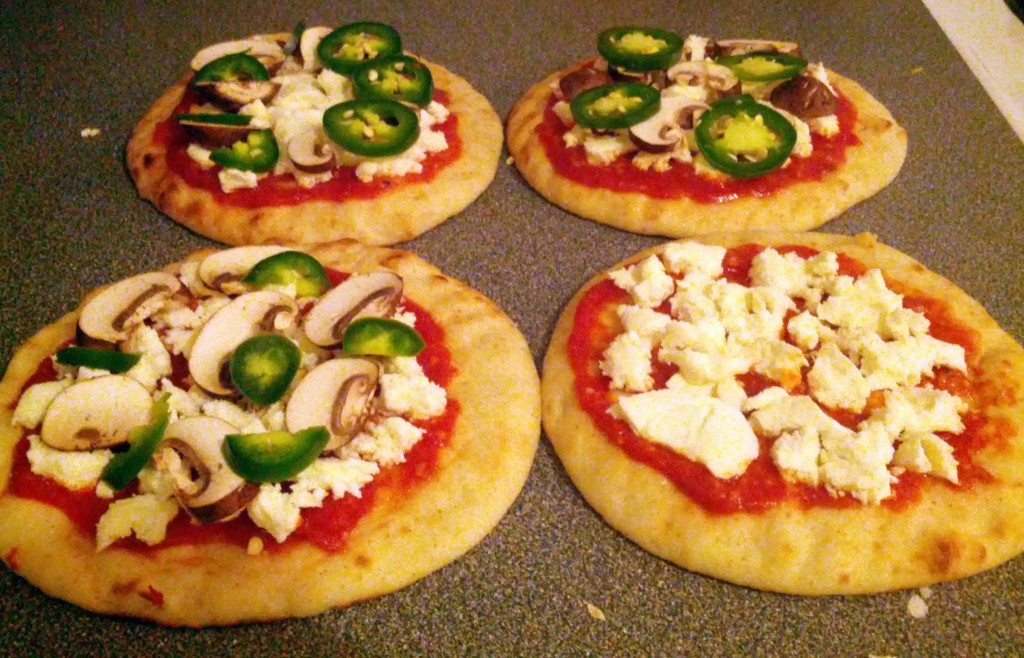 We're big fans of jalapenos and mushrooms but pretty much anything works! Spread evenly across the pizza and feel free to make a pile of toppings.
Step 4: Add Shredded Cheese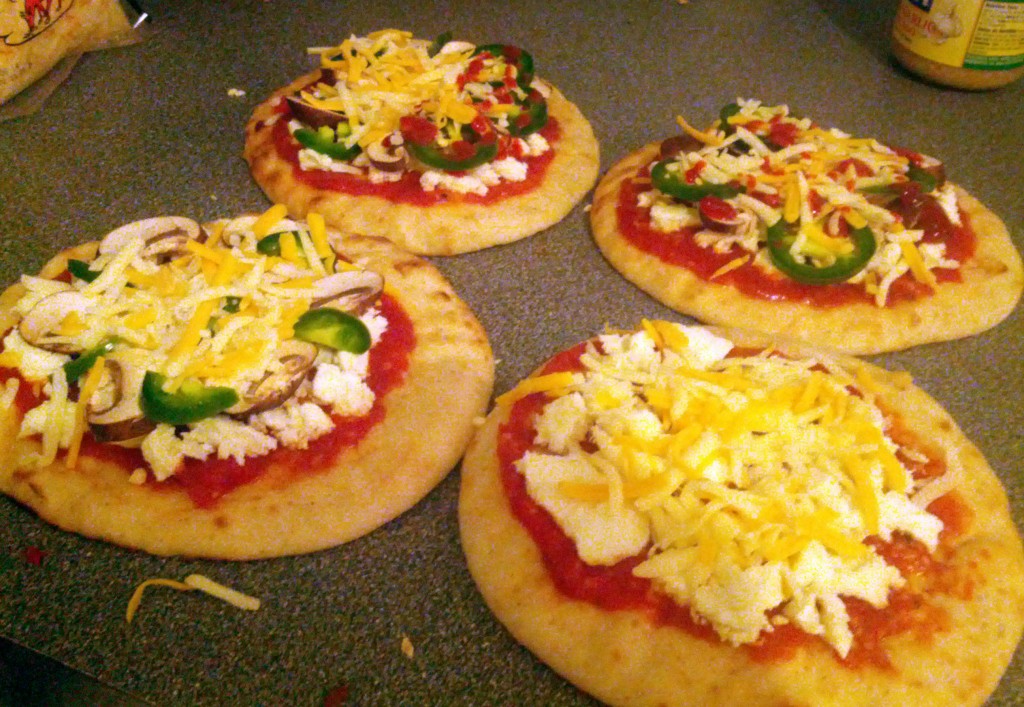 This step is optional but serves two purposes: the cheese on top takes some of the heat so that your toppings don't burn and the extra cheese helps congeal everything together.
Step 5: Bake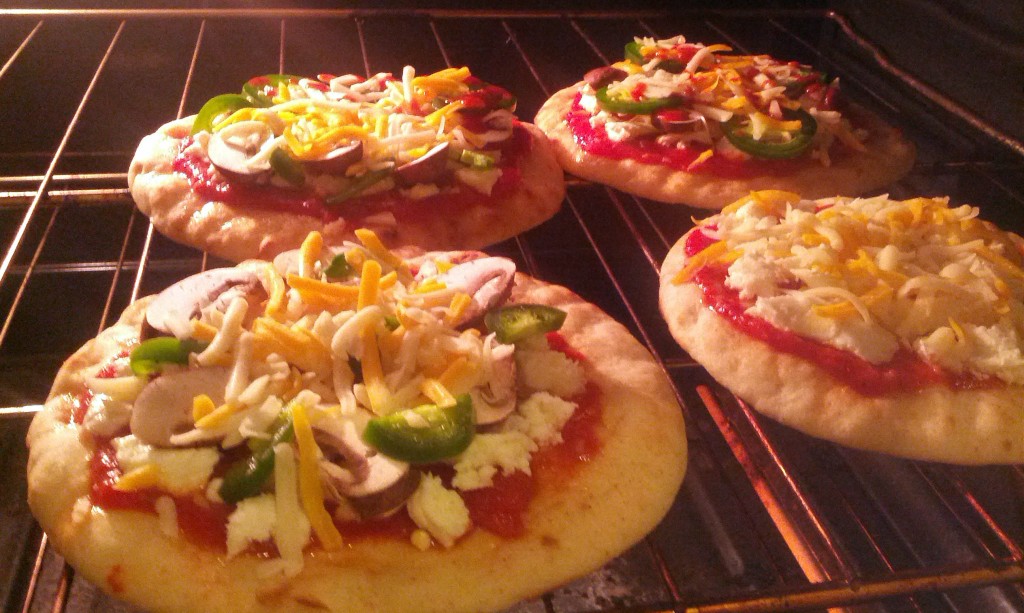 Place pita pizza directly into oven and try to line the edges up so that they are supported by the oven rack as this helps prevent dripping. Bake pita pizzas for 17 minutes.
Step 6: Remove from Oven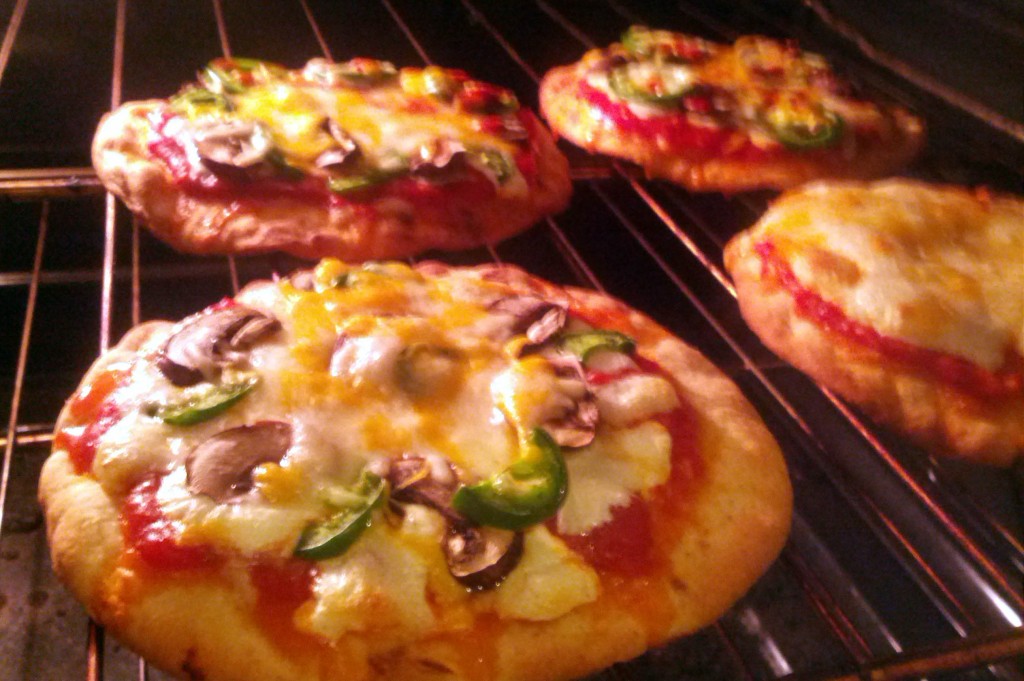 Carefully remove when they look like the above photo, browning on the edges and in the middle. The crust should be crunchy!
Step 7: Prepare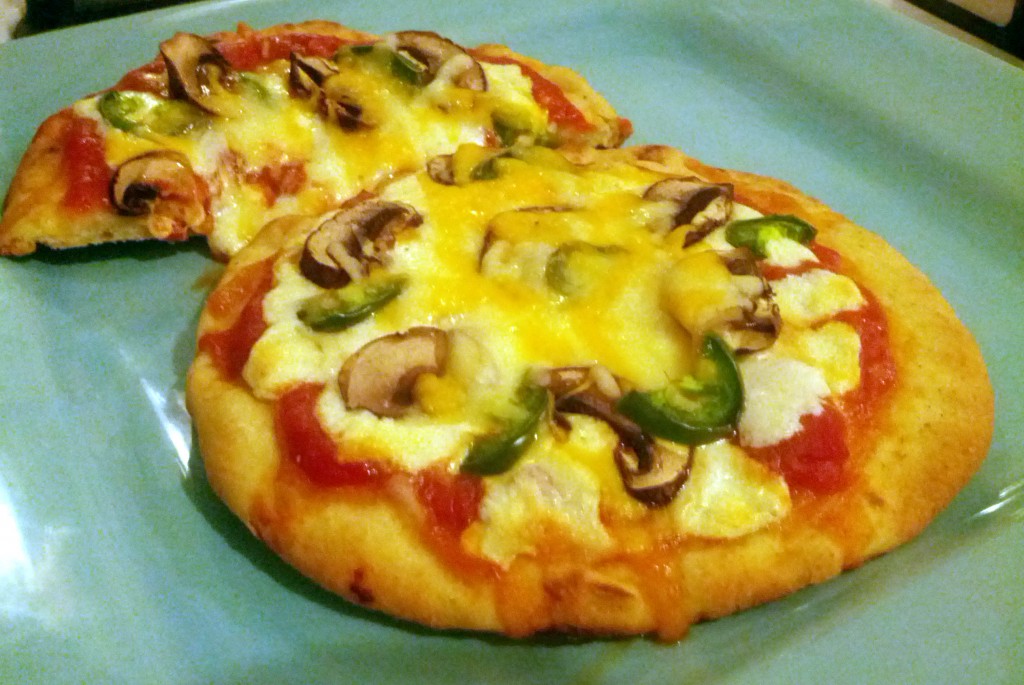 Cut pizza into halves or quarters. Add Parmesan and/or red pepper. Important: serve immediately. If we have one criticism of this recipe it is that the pizza cools down pretty fast.
Enjoy making Pita Pizzas! They're fun to make with kids and for dinner parties: Follow the first two steps and let everyone prepare their own pizzas with their favorite toppings.
REMIX!
Thanks to /u/RisinFenix86 for posting these delicious themes for your Pita Pizza!
Mexican Pita Pizza:
• Cheese: Mexican Blend
• Sauce: Taco Sauce, Hot Sauce
• Toppings: Iceburg, Tomato, Green Onions (Or White/yellow), Avocado (after), Sour Cream (after), Ground Beef/Asada/Carnitas
BBQ Ranch Chicken Pita Pizza:
• Cheese: Gouda/Mozzerela
• Sauce: Ranch & BBQ (2 parts Ranch to 1 part BBQ)
• Toppings: Red Onions, Cilantro, Chicken (cook prior to starting)

Goat Cheese & Spinach Pita Pizza:
• Cheese: Crumbled Goat Cheese
• Sauce: Olive Oil
• Toppings: Tomato, Spinach, Olives
Additional Toppings to keep an eye out for:
• Olives, Onions (Don't forget Green Onions!), Tomatoes, Cabbage, Corn, Asparagus, Mushrooms, Spinach, Peppers, Garlic, Broccoli, Kale
Additional Sauces to keep an eye out for:
• Tomato (Pasta/pizza), BBQ, Ranch, Pesto, Alfredo, Taco/Hot sauce, Olive Oil